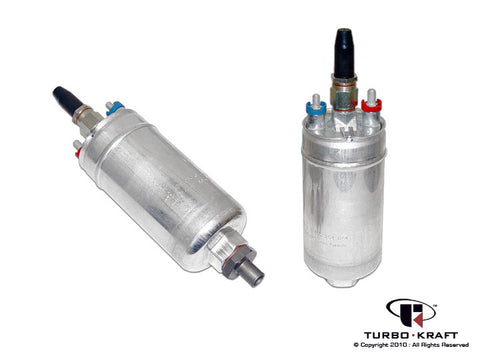 Fuel Pump : Bosch 044 Motorsport
--> DISCONTINUED <--
Genuine Bosch Motorsport Fuel Pump "044"

The standard, high output fuel pump for high performance Porsche cars. 
Factory 993 GT2 cars use this same pump original equipment production with Porsche Part Number: 993 620 104 80.  Last known MSRP: $607.86
Applications / Notes:
1976-1994 Porsche 911 / Turbo: Higher performance CIS or EFI engines.  Excellent for replacement of front, rear or both pumps.  The original 911-930 front pump utilizes a 12mm barbed inlet for factory push on fuel hose.  Electric terminal connections are larger M5 and M6 on the -044 pumps.  Ensuring adequate voltage supply to the pump is advised.
1995-1998 Porsche 993 / Turbo: Higher performance engines.
Specs:
172 LPH at 6.90 Bar
Suitable for use with bio fuels / ethanol
Purpose and Function:
Modern EFI fuel systems circulate as much as 200 liters per hour (~ 3 liters / min.) of fuel at pressures between 2.5 - 3.5 bar (250 - 350 kpa)  Modern electric fuel pumps are "Positive Displacement" type pumps, this means that the pump cannot produce pressure unless it is acting upon a restriction. The only restriction in the system should be the fuel pressure regulator.  The regulator controls the system pressure; the pressure ability or flow volume capacity of the fuel pump will not alter the system pressure.
Due to the high pressure and volume requirements placed upon these pumps, manufacturing tolerances are extremely fine. Motor speeds can be as high as 10,000 RPM and the clearances within the pumping elements down to microns. Cleanliness of the fuel system is vital, with an efficient high quality filter as an essential part of the fuel system.
Other Notes:
We have seen and mistakenly purchased counterfeit versions of these fuel pumps.  The non-genuine units available as found on eBay for under $200 have similar looking packaging and pump housing appearances.  We discovered through testing that production quality and reliability is not good.  Buyers beware!  TurboKraft purchases direct from only certified Bosch dealers.
For simple installation into the 911 / Turbo, 964 / Turbo, and 993 / Turbo models, see our billet metric hose adapter fittings.
---
We Also Recommend