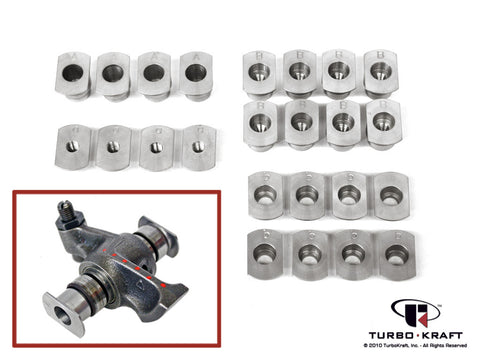 Rocker Shaft Lock Set
Another TurboKraft original.
The TurboKraft 911 Rocker Lock Sets solve common engine oil leak problems seen at the valve covers.  The original rocker shafts installed in the engine camshaft housings develop excessive free play, coming loose and shifting as the engine reaches operating temperature. 
When the rocker shafts move in the camshaft housing, they shift to the side resulting in support of only one end.  Not only does this create a huge oil leak, but the rocker arm is no longer completely supported and risks binding or breaking, causing a cascade of expensive engine component failures such as:  rocker arms, timing chains, sprockets, valves, pistons, etc.
Fits all 911 engines 1965-1994
An essential upgrade for all general engine rebuilds, racing engines and Turbos. 

TurboKraft's Rocker Shaft Locks are precision CNC machined billet stainless steel so they will not corrode and are very high strength.  The design correctly positions the rocker shaft within the camshaft housing to provide the greatest support of the rocker arm.
They feature the same expansion flaring as the factory parts to interface with the original rocker shafts, expanding them slightly to create a seal. 
Motorsport Rocker Shaft Seals (sold separately) are also fully compatible and are strongly recommended for all engines to minimize the risk of leaks.  
: Installation is a direct bolt-in replacement for the original rocker shaft bushings and nuts.

: Easier to install than the original, worn, and expensive parts – Nut end locks directly into the camshaft housing.

: Does not require removing the engine from the car, nor the removal of the chain boxes, or camshaft-driven components (power steering pump, scavenge pump, etc.)
Inexpensive insurance!  Costs to replace later can exceed 10.4 hours, plus gaskets, shop supplies and aggravation.
Sold per set:  1 set = 1 engine (24 pieces)
"I just installed the Rocker Shaft lock set on my 914-6 that runs a 2.7 CIS engine. I wanted to share with you that I think your product is genius and it worked like a charm. My lower rockers, on the 4,5,6 side were not properly centered and were leaking. This solved the problem."  -Robert A.
---
We Also Recommend