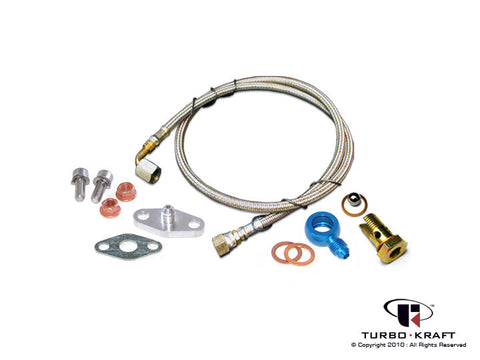 Turbocharger Oil Feed Line Set : 3K-Warner
If you are installing a new KK&K/BorgWarner turbocharger to your Porsche Turbo, we recommend updating the original oil feed system.  The original multi-piece line systems are a common source of leaks.  Indications for such leaks are evident with oil on the left side of the engine.  Residual oil in the turbocharger and exhaust often causes smoking on start up.  This is also a common problem eliminated by our kit. 
Our set includes an oil feed fitting with integral check valve, banjo fitting, sealing rings, a single-piece stainless steel braided / PTFE oil line at the proper length, and the appropriate turbocharger oil feed fitting. 
Reduced connections
Flexible and durable - stainless steel braided high pressure line
Eliminates turbocharger smoking on start up
Lifetime warranty
A direct replacement for the original equipment turbocharger oil feed line.  Specially machined aluminum oil feed fitting for use with 3K-Warner Turbochargers.
NOTE:  Also fits large frame Garrett turbochargers, ex: T04, GT40R.
*Less than half the cost of the original equipment line set.
Application:
1976-1994 Porsche 911 Turbo : All Models equipped with KK&K / BorgWarner Turbochargers
1976-1994 Porsche 911 Turbo : All Models equipped with large frame Garrett Turbochargers
---
We Also Recommend